On August 27, the "2021 Top 100 Competitive Companies in Software and Information Technology Services" was released. CASCO is on the list because of its outstanding performance in terms of corporate scale, operating performance, and technological innovation. This is the fifth time that CASCO has been selected since the list was first released in 2016, and CASCO's competitiveness ranking has been rising year by year.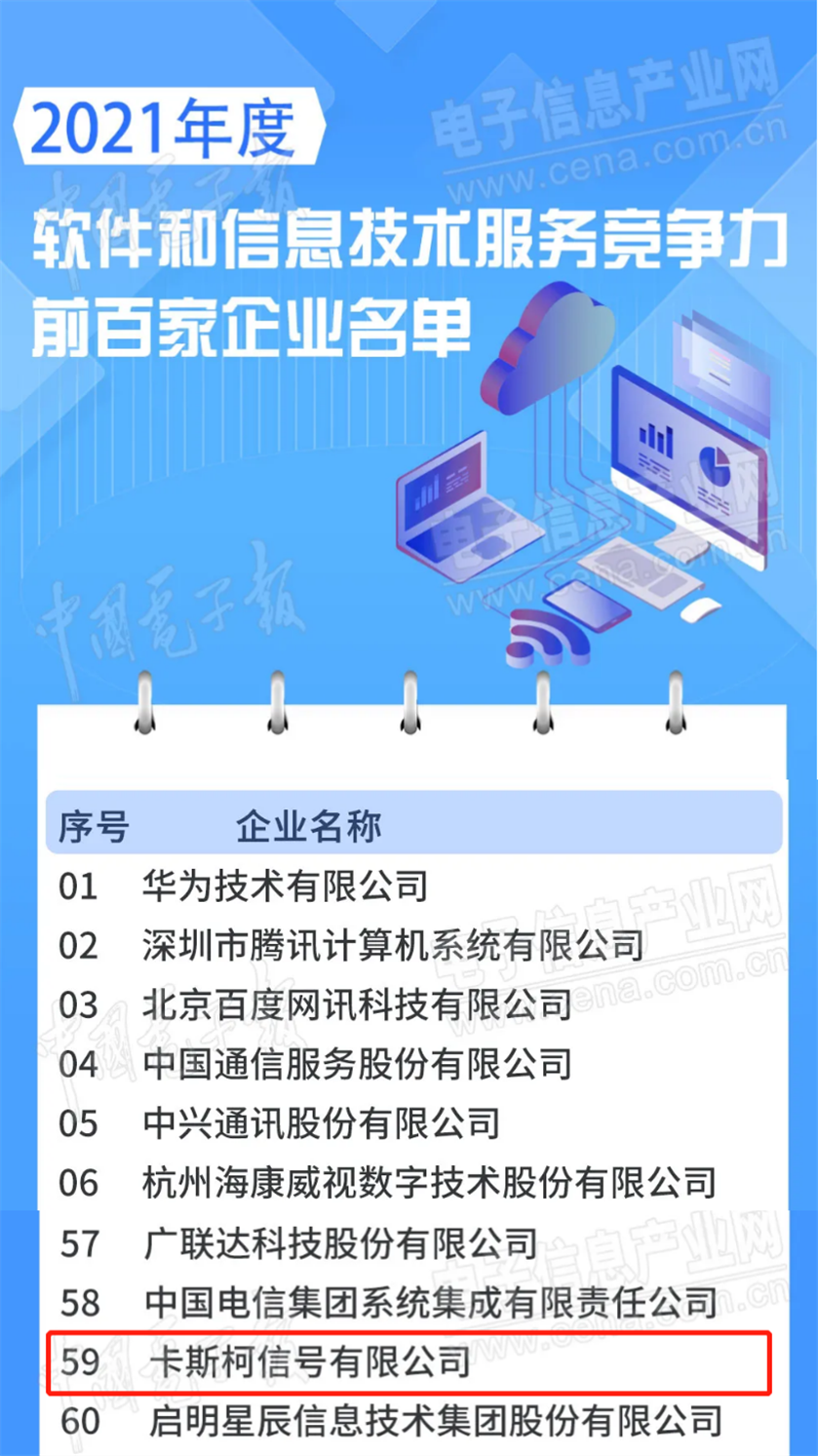 Selected screenshots from the list Source: China Electronics News
The Top 100 Software Companies List is a representative and authoritative selection of the domestic software and information technology service industry. It is sponsored by the China Information Technology Industry Federation under the guidance of the Ministry of Industry and Information Technology focusing on implementing the decisions and deployments of the Central Committee of the CPC and the State Council on "Cultivating world leading enterprises with global competitiveness, pioneering enterprises with innovative capabilities, and developing more high-quality enterprises" by selecting outstanding industry-leading representatives to further stimulate the innovation vitality of the industry.
With decades of profound experience in the rail transit industry, CASCO deeply integrates the inherent innovation thinking of software companies into the development by continuously increasing R&D investment and striving to make technological breakthroughs. CASCO has so far possessed more than 100 cutting-edge system technologies and products with completely independent intellectual property rights, covering various fields such as national railways, urban rail transit, intercity railways, trams, etc. As a result, CASCO has gradually grown into a rail transit control system integrator combining technology research and development, consultancy services, and engineering construction, providing customers with a full range of integrated solutions and full life cycle services, and have created industry-leading technological advantages and market reputation.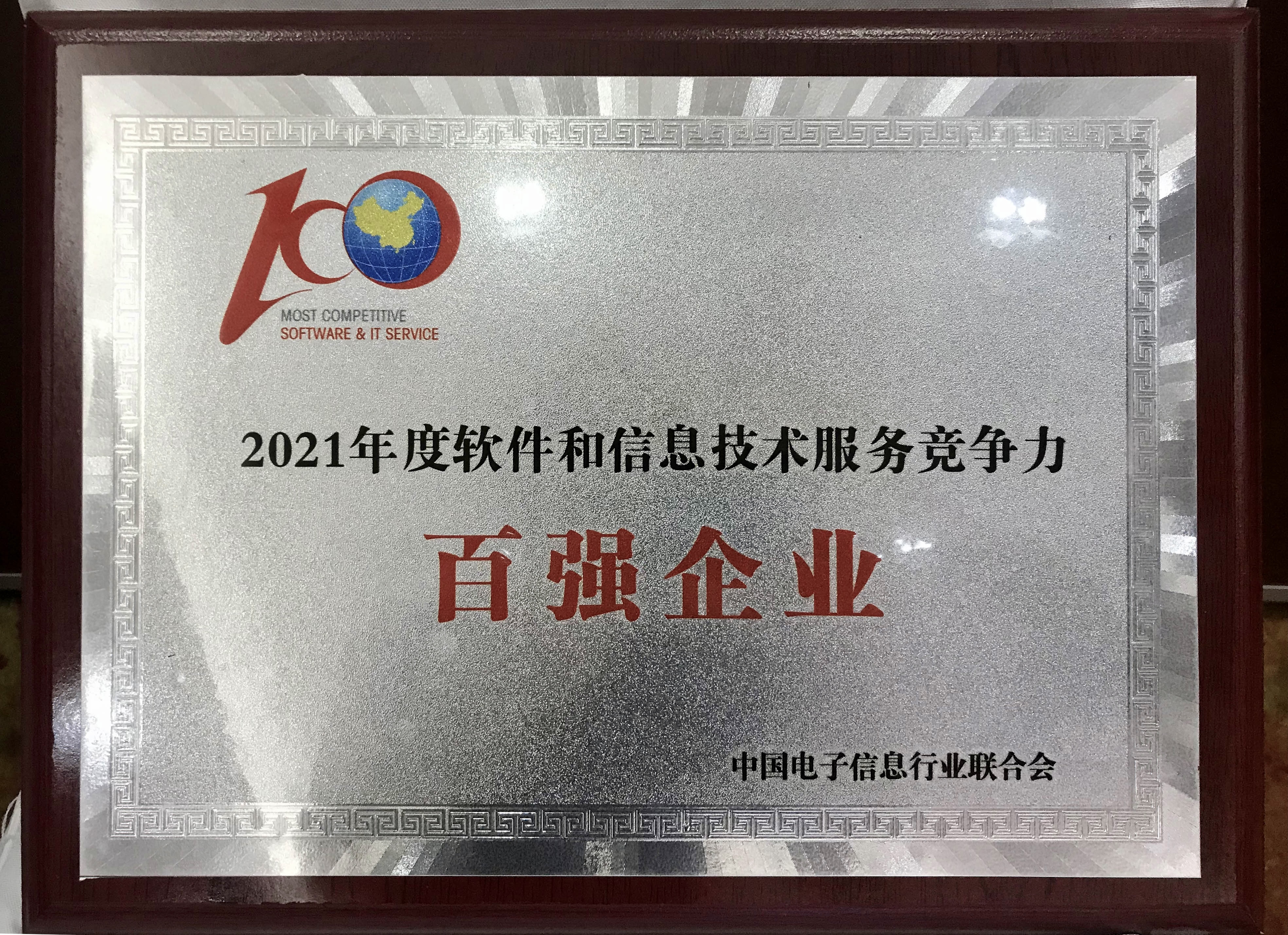 Top 100 Software Companies Medal
After years of steady progress, CASCO is ranked among the top 100 software companies again, which represents the high recognition of CASCO's comprehensive scientific research capabilities from authoritative experts and the industry. In addition, the recent scientific and technological achievements of CASCO in the field of rail transit have also produced good news of winning important industry awards in one fell swoop. On August 23, "R&D and Application of Integrated Tram Network Operation System" participated by CASCO won the first prize of the Science and Technology Award of Shanghai Institute of Traffic Engineering.
In this set of engineering and technical achievements, CASCO has contributed many innovations of the networked operation of trams, safety protection and multi-mode traffic coordination control. Through the effective implementation of a series of technical inventions, an engineering technology system in the field of safety protection and intelligent control of modern trams has been constructed, which has been successfully applied in many projects.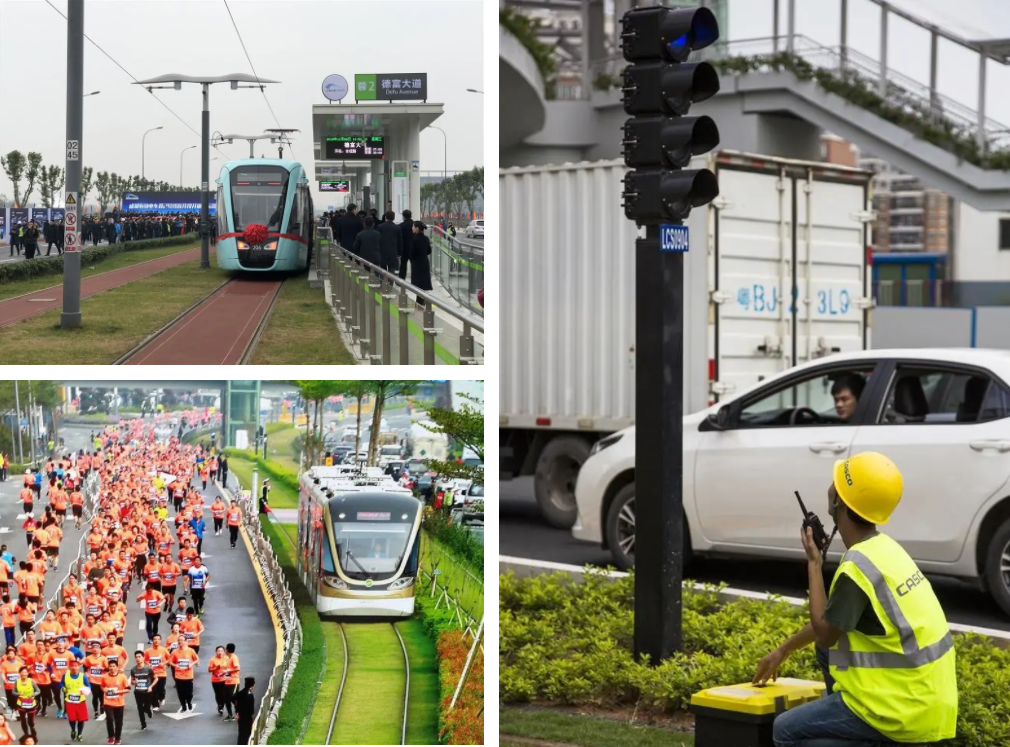 Examples of CASCO tram demonstration projects
Top left: Chengdu Tram Line 2, bottom left: Shenzhen Metro Longhua Tram
In the future, with the advancement of the "new infrastructure" strategic deployment and the close integration of the rail transit industry with the trend of digital and intelligent development, it can be expected that the scientific and technological innovation will play a more prominent role of driving forces. CASCO will strengthen innovation-driven development, delve into the industry's cutting-edge technology and niche market, actively participate in intelligent transformation to promote the continuous improvement of the rail transit industry.