On September 5, China International Digital Economy Expo 2021 "Enterprise Digital Transformation Summit" was held, at which the "100 Outstanding Cases of Enterprise Digital Transformation Promotion Catalogue" was published. The three system projects of CASCO: CTC 3.0 System, Train-to-train Communication Based TACS Qiji Train Autonomous Circumambulation System, and Fully Automatic Operation System 2.0 for Smart Metro were selected nationwide.
The CASCO representatives at the awards ceremony
Source: China International Digital Economy Expo
Hosted by the Organizing Committee of China International Digital Economy Expo and organized by China Information Technology Industry Federation, the summit shared the best practices of enterprise digital transformation under the theme of "Data Promotion, Intelligent Service, Transformation and Enhancement". Mr. Liu Lihua, deputy director of Subcommittee of Economy of CPPCC and former deputy minister of Ministry of Industry and Information Technology, Mr. Hu Qisheng, vice-governor of Hebei province attended the summit and addressed the audience. Mr. Yin Hao, academician of Chinese Academy of Sciences, delivered a speech discussing the new opportunities, new pathways and new patterns of enterprise digital transformation.
The selected 100 outstanding cases was derived from hundreds of cases submitted by domestic information system integration and service enterprises with the highest level of CS4 and CS3 after rigorous scrutiny of the industry experts based on technical advancement, industry representativeness, applicability and other dimensions. These cases represent the advanced level of digital transformation in their respective industries, among which CASCO, with three excellent system projects, became the enterprise with the most cases in the transportation industry.

Screenshot of the partial list of 100 outstanding cases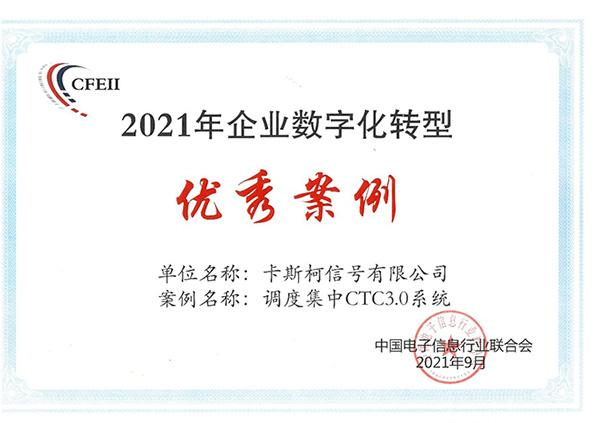 The CASCO CTC 3.0 system is the industry-leading integrated train operation dispatching command system, which strengthens the unified command and security of train operation, and significantly increases efficiency while reducing the operators' labor intensity. Compared with the traditional centralized traffic control system of CASCO, CTC 3.0 system is superior in system performance, security, adaptability and stability. Currently, the system has been widely used in the nationwide railways.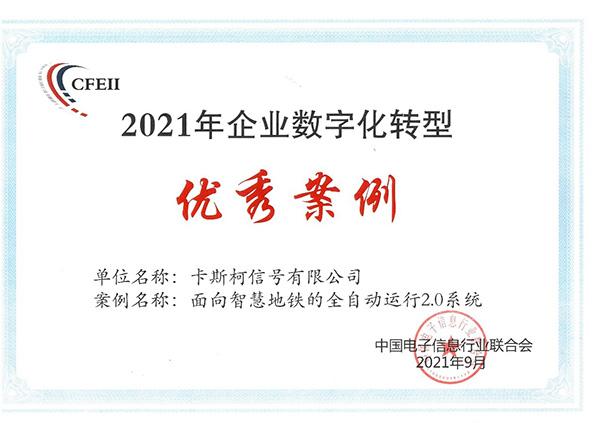 The Fully Automatic Operation System 2.0 for Smart Metro is based on intelligent operation, covering four aspects: intelligent train dispatching, intelligent operation and maintenance, intelligent station and intelligent yards, which can realize intelligent control of the whole range of rail transit. Since its debut in 2019, some research results of the system have been deployed on several driverless metro lines, including Chengdu Metro Line 9, Shanghai Metro Line 18 and 15, which are of great importance for promoting the transformation and upgrade of smart urban rail.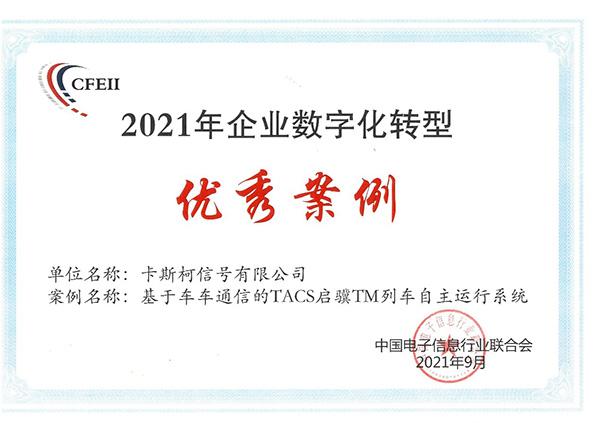 The TRANAVI Qiji TACS system is a new generation of Train Autonomous Circumambulation System (TACS) developed by CASCO after 10 years of independent research. Through three key innovations of platform optimization, system simplification and resource refinement, the system can realize autonomous resource management and active interval protection for trains, simplify the system structure, handle the complexity of functional applications with simplicity, and provide whole-course and all-round security protection. The system will be applied in Shenzhen Metro Line 20, and in Shanghai Metro Line 3 and 4 whose signal system will be renovated.
The selection of the above three system projects fully demonstrates CASCO's systematic leadership and innovative advantages in the field of rail transportation operation and control, and will encourage CASCO to make continuous efforts in comprehensive digital transformation, with technological development as the engine and intelligent application as the focus to build sustainable competitiveness and core advantages in the field of rail transportation.