On November 5, the multi-vehicle tracking test of CASCO's self-developed moving blocking train control system based on BDS, which was led by Shaanxi Railway and Logistics Industry Group Co., Ltd., was completed in Jingbian-Shenmu Railway with phased test results.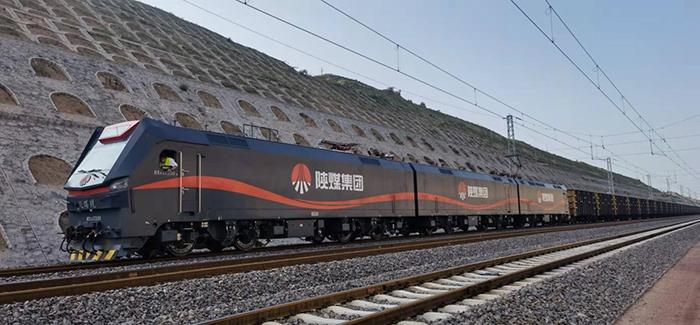 "Shaanmeihao" Test Locomotive
In the test, CASCO completed the technical upgrade and transformation of the moving blocking train control system based on BDS, and succeeded in deploying the system on the "Shaanmeihao" Test Locomotive of Jingbian-Shenmu Railway. CASCO conducted train tracking tests in four stations and three zones from Hongshiqiao to Zhaoshipan, and organized the verification of 49 operation scenarios and 495 application cases, thus completing the site verification of such key technologies as BDS-based multi-source integrated positioning, moving block, multi-mode integrity check and train traction control model.
Beidou Navigation Satellite System (BDS) is a global satellite navigation system built and operated independently by China to safeguard the national security and meet the needs of economic and social development. The moving block aims at improving safety indicators and transport efficiency and is widely recognized as the optimal train control system by the railway systems worldwide.
Through the in-depth integration of BDS + moving block technology, CASCO has made a significant and innovative breakthrough in the application of train control system in heavy load railways. The system helps shorten the operating intervals between trains and improve the efficiency and safety of train transportation while reducing the trackside equipment and equipment maintenance costs.
The successful test marked a new chapter for the application of BDS in heavy load and laid a solid foundation for the application of subsequent systems.